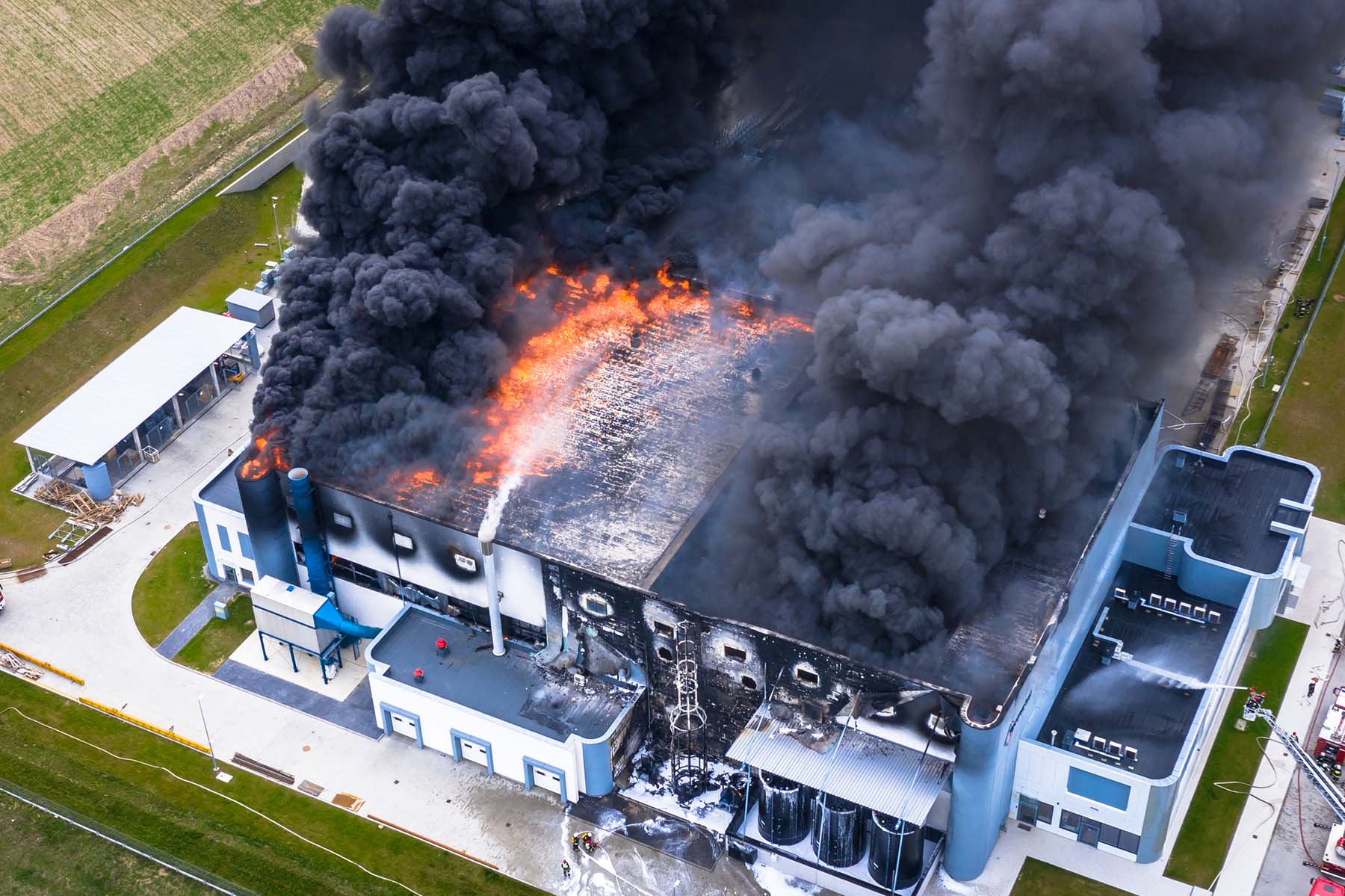 High Piled Permit Compliance Services
In a warehouse, most fires are caused by negligence; negligence can be anything from having faulty or exposed electrical cables and lighting, shop tools that spark, heating equipment malfunctions, and combustible liquids. In some cases, warehouse fires are started intentionally.
According to the National Fire Protection Association (NFPA), warehouse fires happen regularly, with an average of 1,410 warehouse fires and an estimated $159.4 million in direct property damage annually. 
Because of this, you cannot ignore Warehouse Fire Safety. Warehouse fires can put everyone at risk; your employees, first-responders, and can cost you millions of dollars in losses. The best way of keeping your warehouse safe is by following strict fire safety protocols. 
If you are currently storing above 12 feet on the floor or in a pallet rack system, follow your High Piled Permit guidelines. Learn to identify your commodity classifications, understand your fire sprinkler design and its limitations, and assign supervisors and floor managers roles. 
As your business continues to grow year by year, so will your storage challenges and the fire codes. Unfortunately, many companies hold monthly meetings that plan for future growth but disregard warehouse fire safety. Keep in mind that with business growth comes bigger responsibilities, and incorporating a "Fire Risk Assessment Plan" is essential. 
Aside from a "Fire Risk Assessment Plan," you also need to comply with your "High Piled Storage Permit." A High Piled Storage Permit tells the fire department; the type of material(s) you are storing, how high you plan to stack your products, and information about your fire sprinklers system in a nutshell.
It is essential to follow all guidelines as described to prevent your warehouse from burning to the ground. However, the Fire Safety Guys understand it is hard to keep up with all fire codes and High Piled Permit requirements. Therefore, we have created a "High Piled Permit Compliance Services" program for business owners who do not have the staffing or know-how to keep their warehouses safe. Below you can choose from three different packages to fit your needs.
HPS COMPLIANCE BASIC PACKAGEThe BASIC PACKAGE is for businesses that need peace of mind regarding their High Piled Permit Compliance. You concentrate on running your business while we help you stay compliant with the Fire Department.

$

499
Fire Risk Assessment every 120 days.
High Piled Permit Compliance inspection and report every 120 days
Address and fix any High Piled Permit Compliance issues
Fix Fire Extinguisher brackets and signs as needed
Replace missing or damaged Flue Space Labels
Replace all damaged or broken signage as needed
Replace missing or damaged "Access Door Signs" or "NO SMOKING" signs as needed
Alert you when your High Piled Permit is about to expire
SUBSCRIBE NOW
HPS COMPLIANCE ESSENTIAL PACKAGEThe ESSENTIAL PACKAGE is for mid-size businesses that need peace of mind regarding their High Piled Permit Compliance. You concentrate on running your business while we help you stay compliant with the Fire Department.

$

599
High Piled Permit Safety Inspection every 90 days.
Replace missing or damaged Flue Space Labels
Replace Damaged or broken signage as needed.
Fix damaged pallet backstops if needed 

*

Replace missing or damaged "Access Door Signs" or "NO SMOKING" signs as needed
Alert you when your High Piled Permit is about to expire
Help you with High Piled Permit resubmission
Alert you when there is a change to the Fire Code
Keep your warehouse compliant in case the Fire Marshals stop by
SUBSCRIBE NOW
HPS COMPLIANCE PRO PACKAGEThe ESSENTIAL PACKAGE is for mid-size businesses that need peace of mind regarding their High Piled Permit Compliance. You concentrate on running your business while we help you stay compliant with the Fire Department.

$

699
High Piled Permit Safety Inspection every 90 days.
Replace missing or damaged Flue Space Labels
Replace damaged or broken signage as needed.
Fix damaged pallet backstops if needed

*

Replace missing or old "Access Door Signs" or "NO SMOKING" signs as needed
Alert you when your High Piled Permit is about to expire
Help you with High Piled Permit resubmission
Alert you when there is a change to the Fire Code
Keep you compliant in case a fire marshal stops by
Show up to any Fire Marshal Inspections
SUBSCRIBE NOW