Description
INSTALLATIONS
SPECIFICATIONS
Description
1.5" X 3" KEEP CLEAR Flue Space Labels
Our 1.5-Inch x 3-Inch "KEEP CLEAR" Flue Space Labels are durable, made of bumper sticker quality stock. Our labels will last longer than the low-quality imitation labels provided by our competitors. All of our Flue Space Labels have rounded corners, are UV Coated, and come with industrial-strength adhesive that will withstand any warehouse environment. 
Do you need to purchase more than 500 labels for your project? We offer bulk purchases for orders over 500 or more. The more you buy, the more you save. We can print from five hundred to three hundred thousand labels within seven to ten business days.
HOW TO CHOOSE YOUR LABELS
A few questions that come up all the time are? How do I know what label size or color to choose for my racking system? Then, you must keep in mind the beam size, and the other is do you have wire decks and finally, what color is your rack.
Although the California Fire Code calls for a label or yellow tape with red fonts that read "KEEP CLEAR," that may not be the case when your pallet rack step beams are yellow.
In this case, you must invert the colors to Red Background with yellow font colors for easy visibility. 

STANDARD BEAM COLORS

CUSTOM BEAM COLORS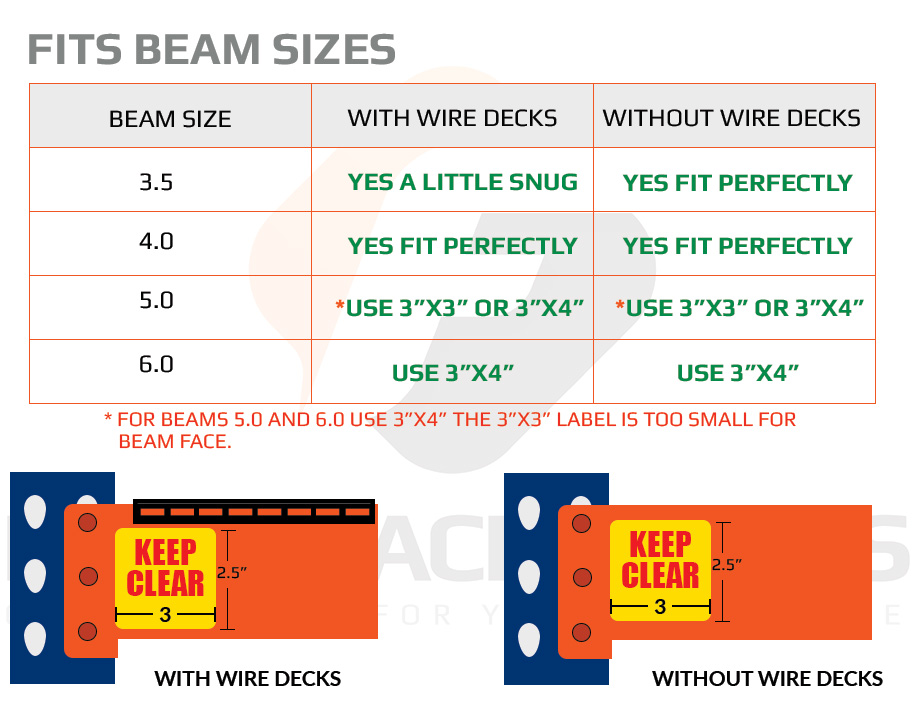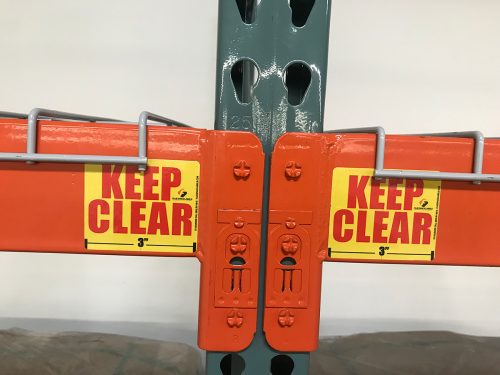 Ensure that the surface is clean for longer-lasting results before installing the labels.

Follow your High Piled Permit Guidelines to assure that you install the labels per your High Piled Permit requirements.
Not sure what configuration you should be using? Give us a call, or you can also hire us to install your labels. Our High Piled Permit Compliance team will install your labels according to your approved HIGH PILED STORAGE PERMIT or commodity class. We will also help you obtain a High Piled Permit if needed.
1.5″ X 3″ ROUNDED CORNERS FOR LONGER LASTING
OSHA YELLOW
LARGE RED FONTS
3-INCH RULER
UV COATED
BUMPER STICKER QUALITY STOCK
INDUSTRIAL ADHESIVE