Description
Additional information
Reviews (0)
Description
6"X2" FLUE SPACE LABELS
Our 6-Inch x 2-Inch "KEEP CLEAR" Flue Space Labels are durable, made of bumper sticker quality stock. Our labels will last longer than the low-quality imitation labels provided by our competitors. All of our Flue Space Labels have rounded corners, are UV Coated, and come with industrial-strength adhesive that will withstand any warehouse environment.
SPECIFICATIONS:
Yellow Background with Red thick fonts for easy visibility

UV Coated for Longer Lasting

Rounded Corners to avoid Peeling 

Industrial Strength Adhesive 

Top and Bottom Notched for easy and straight placement
Do you need to purchase more than 500 labels for your project? We offer bulk purchases for orders over 500 or more. The more you buy, the more you save. We can print from five hundred to three hundred thousand labels within seven to ten business days.
HOW TO CHOOSE YOUR LABELS
If you applied for a High Piled Permit, your plans have a section that tells you what size Flue Space Labels you need to use on your pallet rack system. In some cases, you might have to use a variation of 3-Inch and 6-Inch labels to comply with the fire department. But although your High Piled Permit tells you what labels to use, it is up to you to choose the correct label size to fit your pallet rack beams. 
Some things you need to take into consideration are:
What size beam face do I have?

Do I have Wire Decks or No Wire Decks?

What color are my Step beams?
We have several Flue Space Labels sizes and colors to fit your project needs. While the width of the label will not change, the height and color of the Flue Space Labels will vary depending on if you only have one color and one size step beams.
For example; If you have 4.5 orange step beams with wire decks. Then your Flue Space Labels size should be a standard yellow background 3″ X 3″ and should sit flush on the bottom corners of your step beams under the wire decks. And vise versa, if your step beams are yellow, you must use the inverse color Labels a Red Background 3″ X 3″ Flue Space Label. 
If your High Piled Permit requires you to have a variation of 3-Inch and 6-Inch Flue Space Labels? Then you must follow the configurations that were called on your plans. You can not change those unless you do a resubmittal of your plans.

STANDARD SIZE

CUSTOM COLORS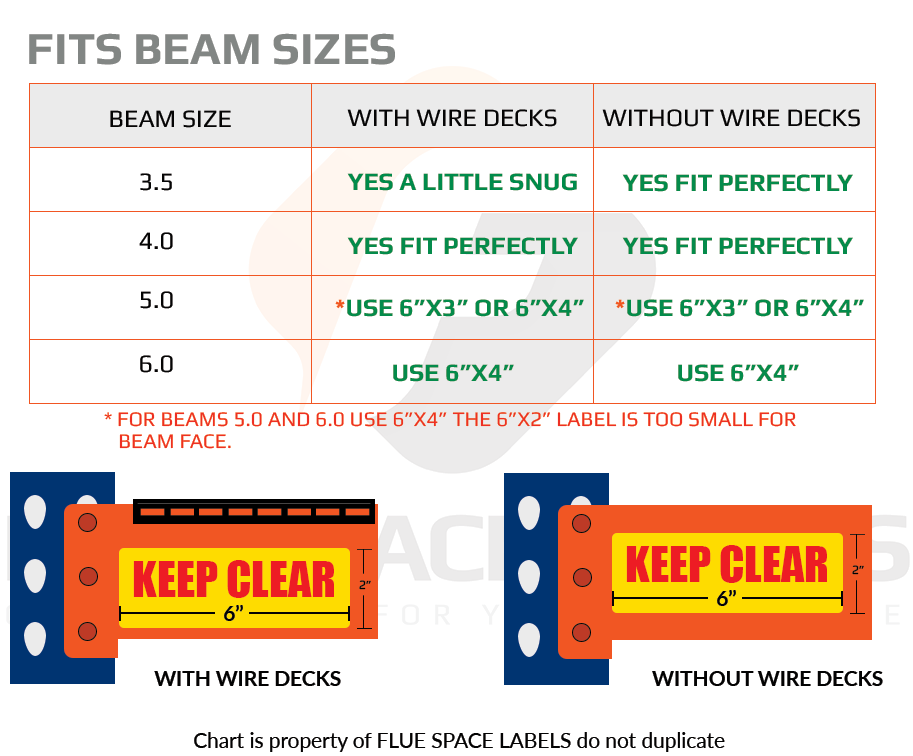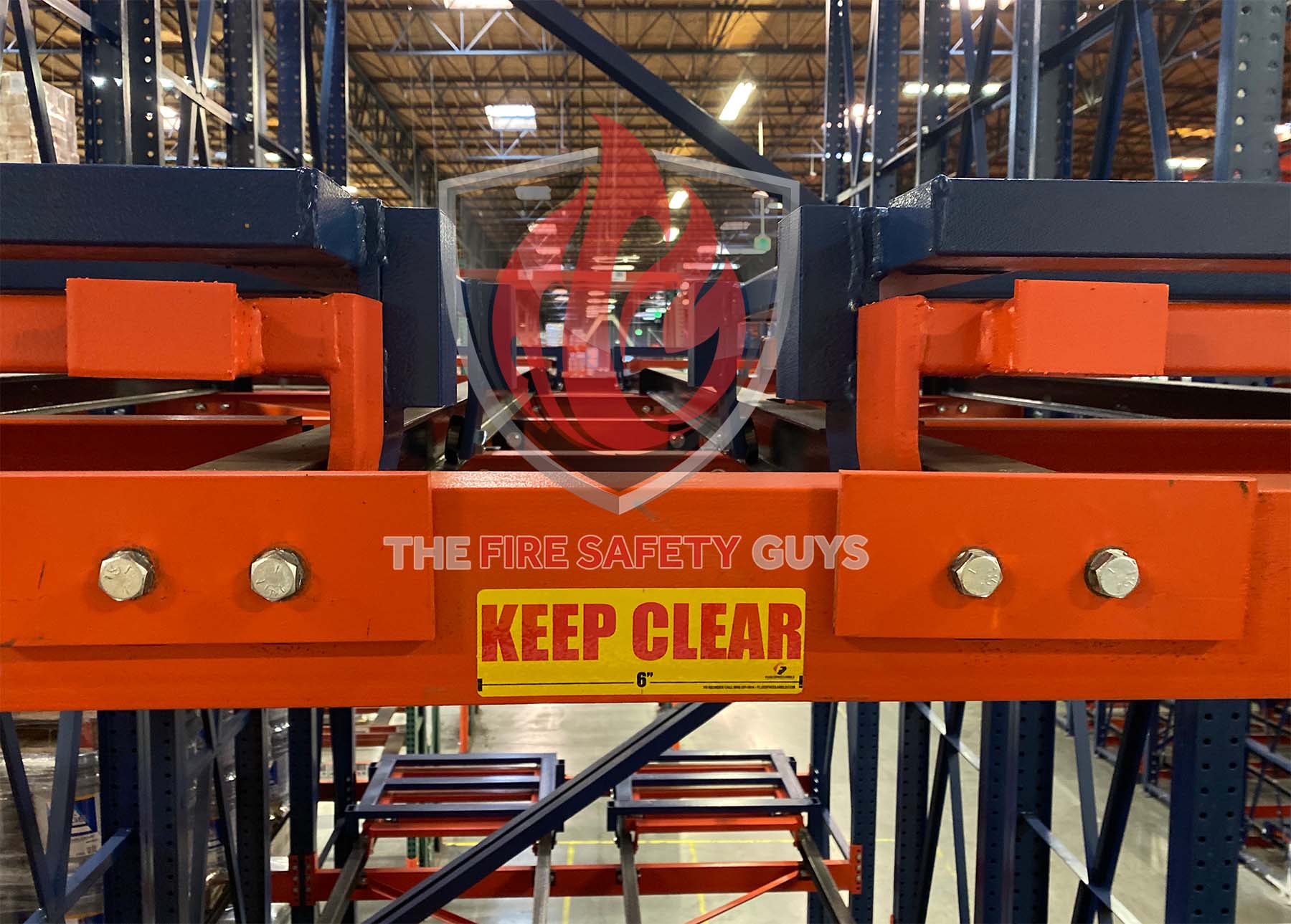 FREQUENTLY ASKED QUESTIONS
---
ONLINE ORDERS
We usually ship all orders out the same day if we receive the order before 3:00 pm. However, if we receive your order after 3:00 pm, it will be shipped the following business day, unless it's Friday.
For Friday orders, they will ship the next business day. You may also pay an expedite fee to have the labels delivered to your place of business for a nominal fee.
BULK ORDERS
If you placed a Bulk order, we provide you with a delivery date at the time of order. The lead time is usually seven to ten business days, depending on when you placed the order. 
Our FLUE SPACE LABELS have an industrial adhesive that will last longer than the labels printed by our competitors.
Our labels are printed on Heavy-Duty Bumper Sticker quality stock that lasts and is weather-resistant because it's UV coated.
YES! Structural pallet racks are different from rolled formed (Tear Drop) style. Since the paint on roll-formed beams is powder-coated regular adhesive labels will work. But when it comes to structural pallet racks, the manufacturers use hi-gloss oil-based paint, making it hard for standard adhesive labels to stick.
Therefore we had to formulate the adhesive on the Flue Space Labels to adhere to oil-based paint. We also carry a Flue Space Label sized to fit 4-Inch C-Channel pallet rack beams. 
ABSOLUTELY! We have installed over 1 Million Flue Space Labels in all Jurisdictions in Southern California. Before we install your labels, we like to walk the warehouse and advise you on the configuration, quantities of flue space labels needed, and how long it will take us to complete your project.
In addition, our experience in Fire Safety and High Piled Permit Compliance allows us to foresee any issues that may arise. We usually request a copy of your High Piled Permit. But if you don't have one? We will help you with acquiring one from your fire department.
Additional information
| | |
| --- | --- |
| Dimensions | 6 × .001 × 2 in |
---
Only logged in customers who have purchased this product may leave a review.