Description
Additional information
Reviews (0)
Description
FIRE EXTINGUISHER DECALS
The International Fire code and almost every Fire Department in America require you to have Fire Extinguishers adequately labeled and installed in your place of business. Furthermore, the NFPA (National Fire Protection Agency) states that no person must travel more than 75ft to reach a fire extinguisher.
If you are in a small office or warehouse less than 1o0 feet? A minimum of 2 or 3 fire extinguishers with adequate signs should suffice. The real challenge is when your place of business is 500 to 1 million square feet and have Pallet Racks and Palletized Storage in the way. With so many obstructions, labeling all your Fire Extinguishers and having an emergency plan can not be over-emphasized.
Based on our experience, not all Fire extinguisher decals are approved by the fire marshals. The reason for that is "as we stated earlier, they need to be conspicuous and visible from 75 ft from wherever the person is standing. Based on that, we have oversized our Fire Extinguisher decals to meet compliance regardless of the size of your warehouse. 
TRAVEL DISTANCE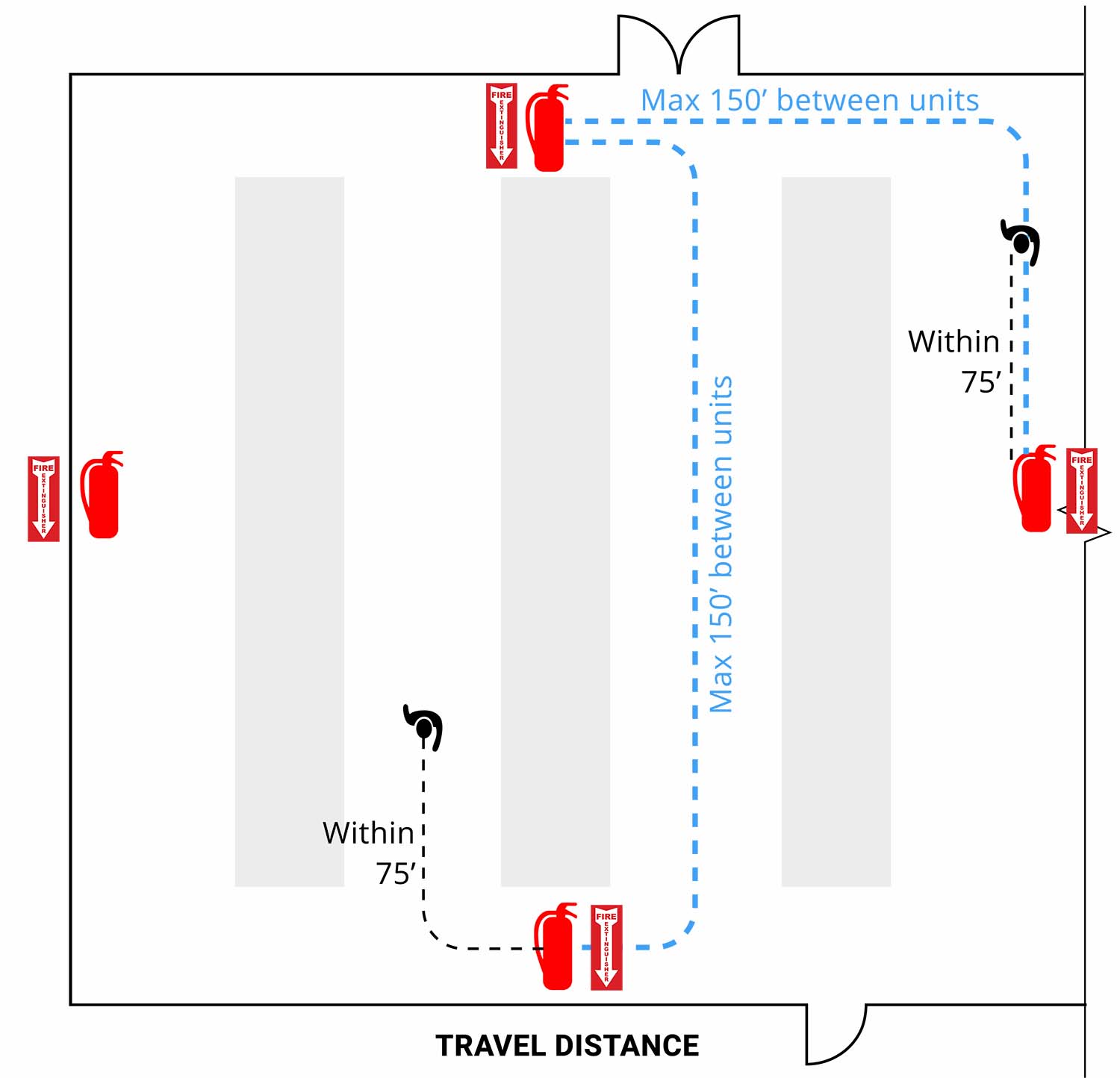 Are you looking for a guide to determine how many Fire Extinguishers you need in your warehouse? Please use the chart provided.
Depending on the total number of extinguishers required is going to determine how many decals you are going to need.
For example, depending on your fire extinguisher's location, you may require four decals.
Things to remember:
Fire extinguishers must be located in such a way so that a person does not have to travel more than 75ft in the distance to get to a fire extinguisher.

Must be conspicuous and labeled accordingly. 

Produce a fire emergency plan so that all your employees know where to locate all extinguishers.

No decals should be obstructed, removed, or damaged. 
INSTALLATION SERVICES
If you are struggling and don't feel comfortable installing your fire extinguishers and labels to meet code requirements? We can install all your fire extinguishers and decals as per code. 
Additional information
| | |
| --- | --- |
| Weight | N/A |
| Dimensions | N/A |
| Sizes | 3" X 12", 4" X 12" |
---
Only logged in customers who have purchased this product may leave a review.