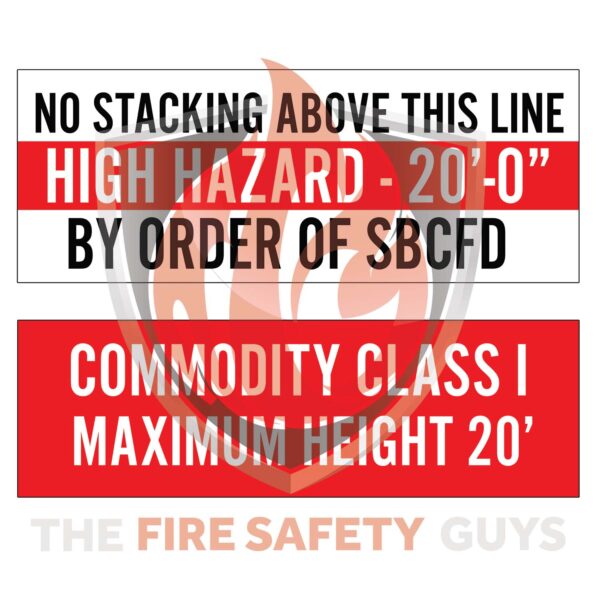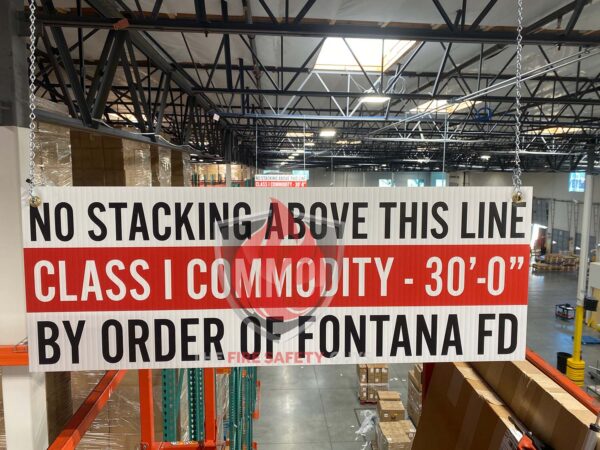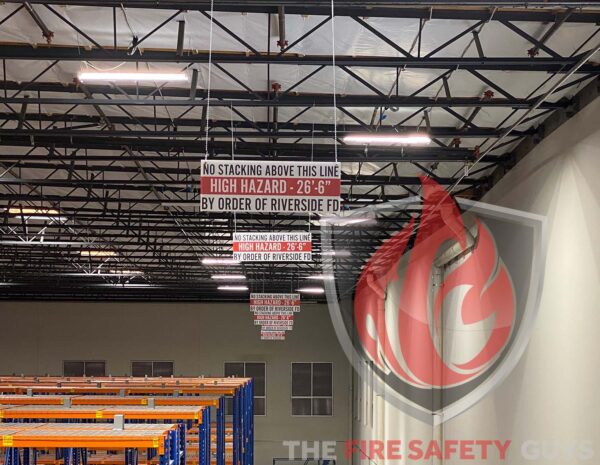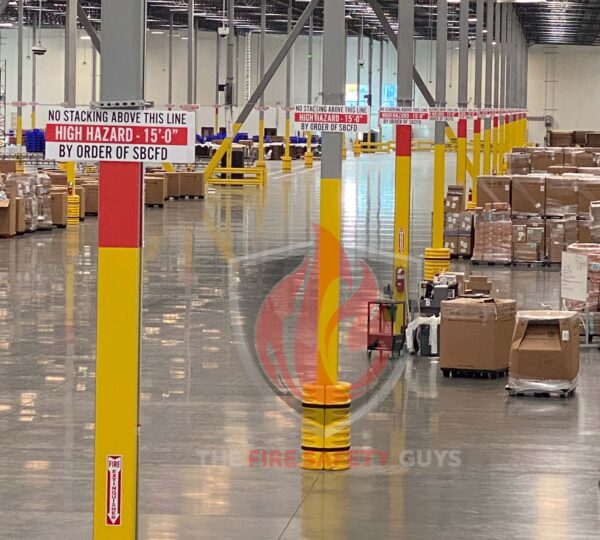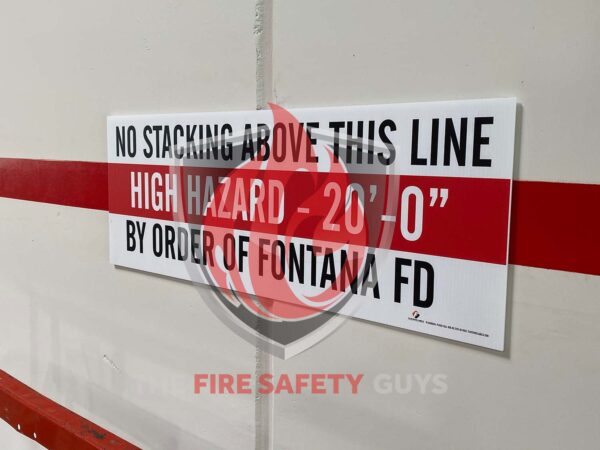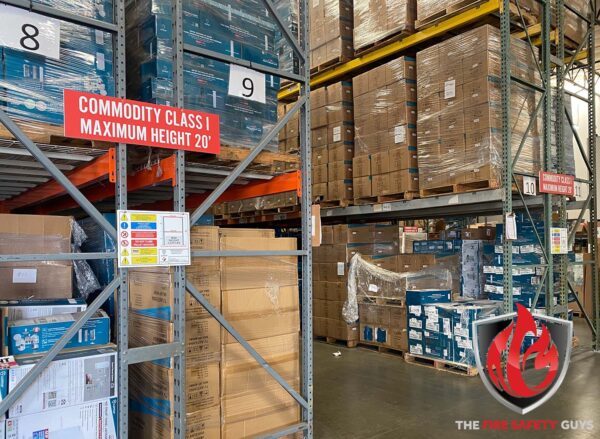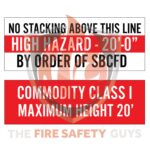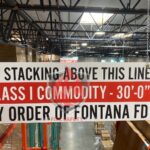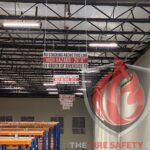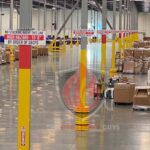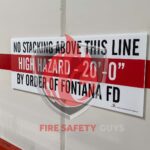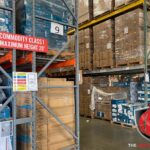 Max Height and Commodity Classification Signs
$29.89 – $33.75
MAX HEIGHT & COMMODITY CLASSIFICATION signs are a requirement in all jurisdictions in California. We will print your signage to meet compliance. Please note: depending on your jurisdiction, the signage design will change. We will send you a design approval before we print.
Compare
Compare
Description
Additional information
Reviews (0)
Description
MAX HEIGHT AND COMMODITY CLASSIFICATION SIGNS
Max Height and Commodity Classification signs provide forklift operators and employees with a guide of how high they can store products in the pallet racks or palletized area within a warehouse.
They also provide emergency personnel with information on the type of products you are storing if there's a fire in the warehouse.
Although all Counties follow the California Fire Code in California, some counties have ordinances (particular guidelines) that you need to pay attention to.  
Let's take Fontana and Riverside Fire Departments, for example. While they both follow the CFC and NFPA 13 standards, each city has unique requirements. Understanding the different needs for each jurisdiction is what we specialize in.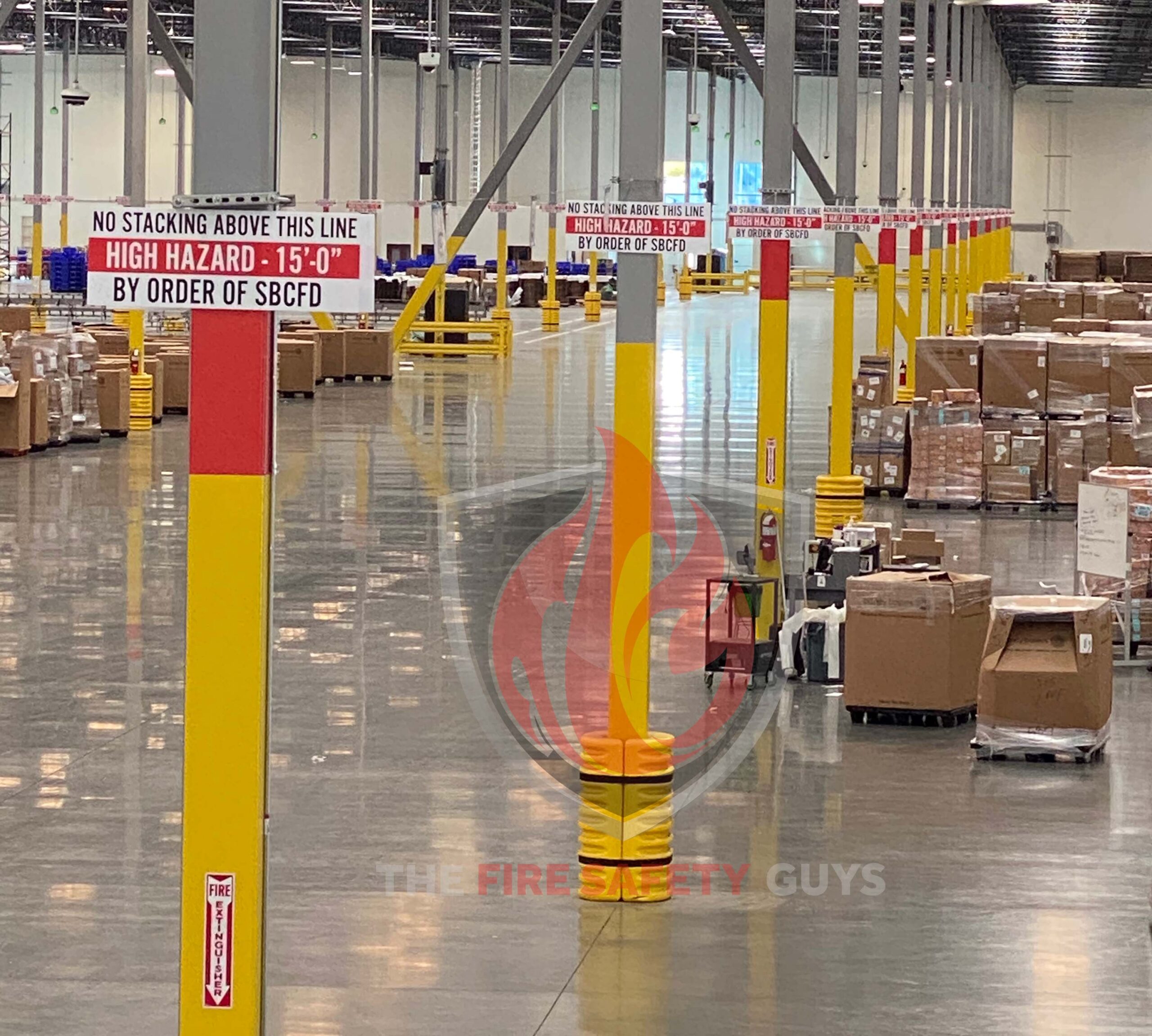 INSTALLATION SERVICES
Need installation services for your Max Height and Commodity Classification signs? We will install your signage according to your High Piled Permit and help you pass inspection on the first try. We have worked with every jurisdiction in California and know the requirements in each jurisdiction. 
Our Services Include:
Signage Installation Services

Knowledgeable staff will hang or secure your signage as per your HPS Permit.

Provide your Forklift operators with guidance and education on your High Piled Permit requirements

Arrange Fire Inspection with the city (if needed)
FREQUENTLY ASKED QUESTIONS
The lead time for the Max Height Signs is seven(7) business days from approval. Upon purchasing your signs, we assign you to a project manager who will follow up with you and request a copy of your approved High Piled Permit. The reason we request a copy of your High Piled Permit is to assure that you input the correct fire department, commodities, and heights.
If you have various commodities and height requirements for your project? You first need to get a complete count of all the heights and commodity classifications required for your project.
If you do not know how many signs you need? You can send us a copy of your High Piled Permit Plan, and we will count them for you. 
If you ordered online and are not sure, you typed the correct Commodity Classifications or heights? CALL US IMMEDIATELY! Do not wait! We will gladly fix any errors for you. 
Three areas require you to have signages. 
Pallet Racking – In all warehouses where Pallet Racks are present, you need signage on both ends of the Pallet Rack Aisles. If there is a break in between your pallet racks, then you need a total of 4 signs per row.
Palletized/ Bulk Storage – If your warehouse has a bulk storage area where you are stacking pallets more than 12ft high, you need signage in this area as well.
Idle Pallet Area – In all areas where idle pallets are stored, you also need signage for this area unless stated in your High Piled Permit.
YES, WE DO! We Install all of your signs as per your High Piled Permit.
Because the signage is custom printed to comply with your High Piled Permit Inspection? All sales are final. Please ensure that you enter the correct information when you order the signage. If you are not sure what information to enter, send us a digital copy of your permit, and we will walk you through it. 
Additional information
| | |
| --- | --- |
| Weight | N/A |
| Dimensions | N/A |
| TYPE | SINGLE SIDED, DOUBLE SIDED |
| GROMMET CORNERS | TOP CORNERS ONLY, ALL 4 CORNERS |
---
Only logged in customers who have purchased this product may leave a review.