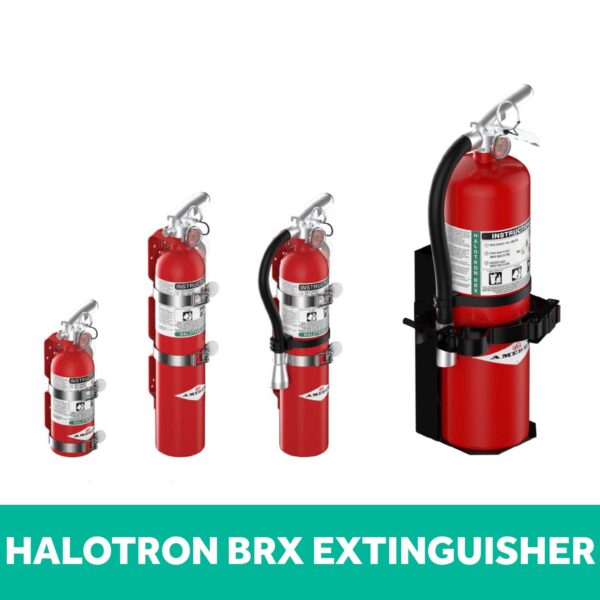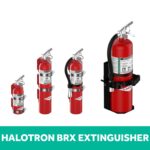 Halotron BRX
Halotron BrX™ (2-BTP) Amerex provides a unique solution for Halon 1211 replacement. These extinguishers utilize Halotron BrX to fulfill the next generation of aviation extinguisher requirements. BrX is a low GWP and very low ODP clean agent approved for use on commercial aircraft. The extinguishers are constructed of a lightweight aluminum valve assembly and cylinders (Model 351 has a steel cylinder). Models 349 and 351 include a hose that allows the operator greater flexibility for utilization in tight spaces.
Compare
Compare
Description
Additional information
Reviews (0)
Description
HALOTRON BRX ( STABALIZED 2-BTP)
Halotron BrX (stabilized 2-BTP) is a high-performance clean extinguishing agent (i.e., volatile and electrically non-conductive) designed for applications where efficient firefighting performance is the most crucial factor.
The unique molecule employed contains bromine, which is "chemically active" (i.e., a chain breaker atom which interferes with the chemical transitions necessary to support combustion). It, therefore, offers an advantage over conventional clean agents. These other common clean agents, including hydrofluorocarbons (HFCs) and fluoroketones, extinguish fires primarily utilizing a physical action (heat removal) effect.
This property of Halotron BrX enables a lower weight equivalence to halon 1211 compared to other halocarbon clean agents that do not have the chain-breaking effect and require more extensive and heavier extinguishers. This weight effectiveness has resulted in Halotron BrX gaining acceptance as an adequate replacement for halon in aviation uses.
In addition, since it is a clean agent, it does not leave potentially harmful residues after application. This is in contrast to conventional dry chemical agents such as mono-ammonium phosphate (MAP) ("ABC Dry Chemical") and potassium bicarbonate ("Purple K") which both leave fine particle dust that has to be cleaned up and that can be corrosive.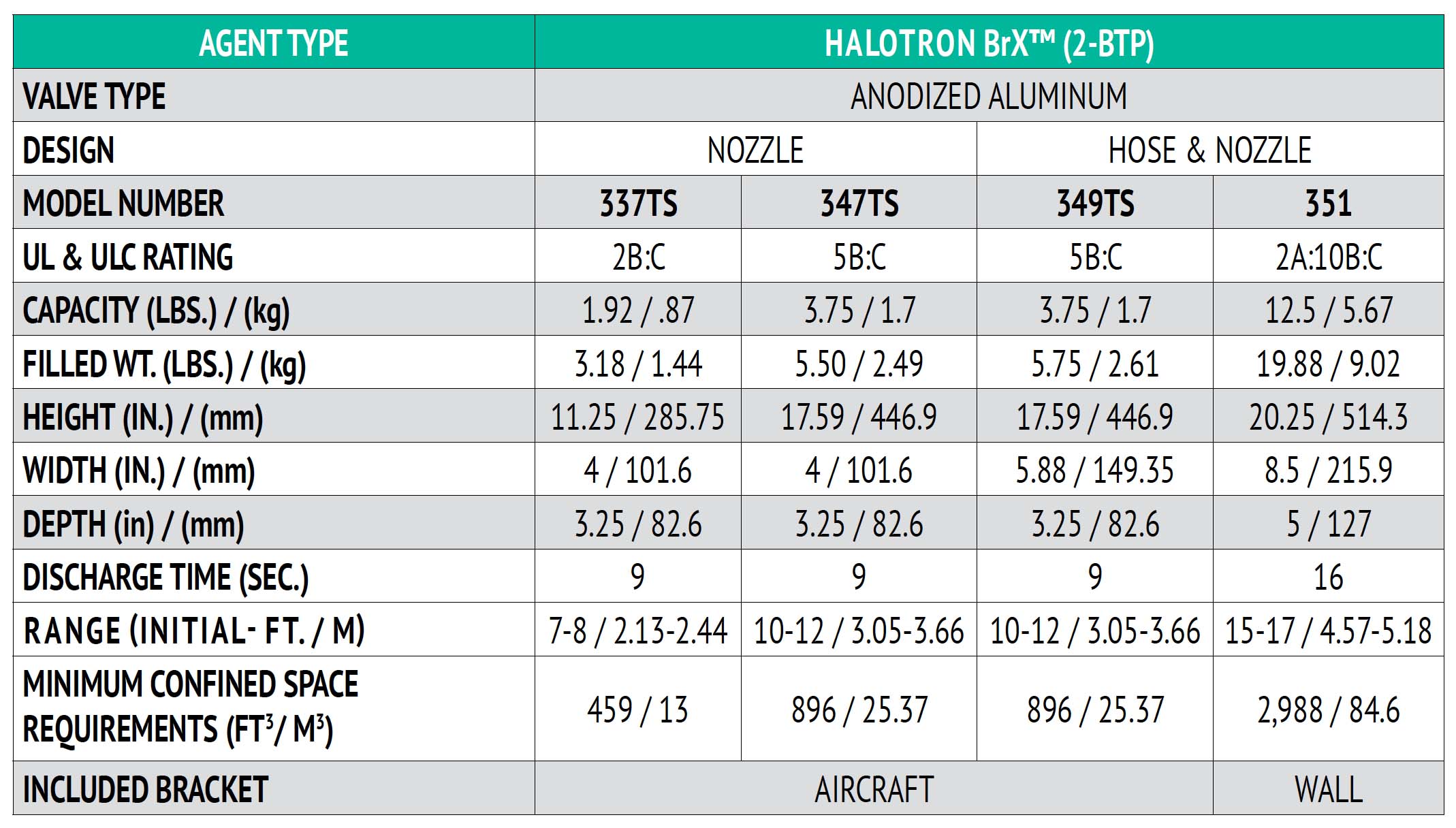 USER FRIENDLY
---
Maximum Visibility During

 

Discharge

Large Loop Pull Pin (Model 351)

No Electrical Conductivity Back to

 

the Operator

No Thermal or Static Shock QR Coded

Bilingual Labels
FAA APPROVED
---
All models have been tested for aircraft use by NTS to the shock and vibe sections of RTCA DO-160G

Models 347, 349, and 351 are FAA approved in accordance with DOT/FAA/AR-01/37
MANUFACTURED AND TESTED TO ANSI/UL STANDARDS 
Complies with NFPA 10 Standard 

ISO-9001 and ISO-14001 Certified UL LISTED
RUGGED
---
6-Year Manufacturer's Warranty 

Stored Pressure Design Aluminum Cylinders (Model 351 has a Steel Cylinder) 

Durable High-Gloss Polyester Powder Paint 

All-Metal Valve Construction 

The hose is Unique to Amerex Product (Model 349 and 351) 

Extinguishers are Maintained in Accordance With NFPA 10 Hose Provides Greater Access to Tight Spaces–Offering Greater Flexibility When Using the Extinguisher (Model 349 and 351)
ENVIRONMENT
---
EPA approved "Clean Agent" for Class

A, B, and C hazards Low GWP – 0.26 (100 years)

Low ODP – 0.0028 Short Atmospheric Lifetime

Temperature range: -40 F to 120 F/-40 C to 49 C

Amerex Manufactures our Product In-House and Has Full Control Over our Supply Chain, Manufacturing, and Engineering.
Additional information
| | |
| --- | --- |
| UL&ULC RATING: | 2B:C 1.92 LBS – 337TS, 5B:C 3.75 LBS – 347TS, 5B:C 3.75 LBS 349TS, 2A:10B:C 12.5 LBS 351 |
---
Only logged in customers who have purchased this product may leave a review.